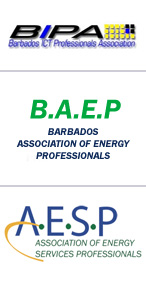 About Atom Solutions Inc.
Mission
To provide innovative Energy and ICT Solutions to meet our customer's needs.
Services
ICT Consultation
General Energy Consultation
Energy Audits
Alternate Energy Solutions
Energy Management Programmes
Energy Efficiency Rating Programmes
Summary Profile
ASI is a global energy and technology services provider registered in Barbados. Our company was formed to service the needs of businesses. We implement systems and solutions for clients in order to create greater efficiency.

ASI partners with our clients to reduce their operating costs through the appropriate use of technology, thereby producing greater profits in a competitive global market place.

ASI understands that client needs are unique and therefore require a customized solution. To achieve this we will leverage our experience and occasionally partner with other companies to deliver the best results.

This is why we are the Barbados Service Exporter of the year – January 2009.
Core Values
Flexible - providing unique solutions
Accessible - always being there
Caring - partnering to maximize
Timely - meeting needs on time
Simple – making solutions understandable
Contact Information
Address
Lot 51, 9th Avenue
Newton Terrace, Christ Church
Barbados
Telephone : (246) 234-5770
Fax : (246) 427-3898
Email : This e-mail address is being protected from spambots. You need JavaScript enabled to view it